Holiday Fashion Trends—Jersey Shore Style!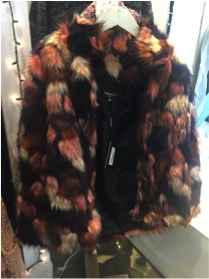 December 05, 2017
-
comments
The holidays are here at the Jersey Shore! No doubt, you'll receive plenty of holiday party invitations. But ladies, do you know what styles are "IN" in and around the Jersey Shore this holiday season?
ShoreTV New Jersey took a trip to Molly and Zoey at Pier Village in Long Branch to get the lowdown on the season's top 5 holiday fashion trends. The women's clothing boutique is a great place to not only shop for yourself, but also to get some holiday gift shopping crossed off your to-do list!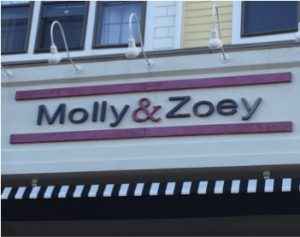 They offer an assortment of women's fashion items that are up to date with the latest trends. Their items usually range from about $10 to $100. I spoke with Chelsea, one of the stylists at Molly and Zoey, about the latest holiday fashion trends and she said fur coats, velvet dresses, and anything metallic or covered in sparkles are perfect for the holiday season! Here we go…
Stylish Scarves
We all know how cold it can get by the ocean in the winter at the Jersey Shore, right? So, a scarf is a stylish option while still keeping you warm and cozy as you travel to your holiday soiree! There are a variety of colors to choose from, everything from plaid to a classic knit design. This must-have accessory ranges from about $14 to $20.
Colorful Clutches
A vibrant clutch can liven up any outfit and is definitely "in" this season! It's a great way to add a pop of color to your look. Clutches and bags are around $32 and there are so many colors and styles to choose from. Most bags are a suede-like material and some offer a shoulder strap to make carrying your belongings much easier. There are also more unique pieces with multicolored faux fur detailing. It's a perfect add-on to any winter outfit!
Fun and Festive Earrings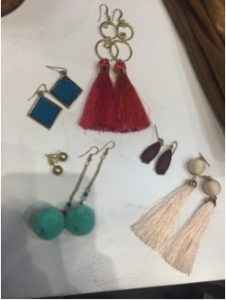 Complete your holiday party look with some fun earrings. Pair a simple, classic black dress with some dangling earrings and you will be sure to get complements at all the parties! The price range on jewelry is about $16 to $22. There are a number of different styles of earrings. Molly and Zoey's earring selection offers long, dangling tassel styles that come in a multitude of colors as well as minimal, elegant studs.
Faux-Fur Coats
A great way to say "wow" with your fashion! A few of the faux-fur coat styles are more casual with a zipper and hood for those days spent strolling by the beach, while others are fancier for a night out at a local restaurant or bar. They have solid, neutral colors like grey, cream, and black, which could match any outfit. But they also have multi-colored ones that are unique and look luxurious. The price range of the coats is about $50 to $100. These coats are all faux fur material and are such a staple to have in your closet this winter. Bundle up and throw this comfy, warm jacket over a dress and head out the door for an easy look that also makes a fashion statement this season!
Party Dresses
Velvet and metallic dresses are ideal for any holiday party or special occasion this season. The price range for dresses is about $40 to $70 and they come in many different colors but the most popular ones for the season are darker colors like burgundy, forest green, and black. Whether you're attending a family party or just going out for a holiday celebration with friends by the Jersey Shore, you can't go wrong with wearing a dress!
The holidays are such an exciting time but they are especially joyful by the Jersey Shore! Spending time with family and friends is part of what makes this season so special. Look around! The Jersey Shore is decked out in the holiday spirit from communities to businesses. Enjoy the celebrations and have a little fun with your fashion this season—after all, it is the most wonderful time of the year!
ShoreTV New Jersey wishes you a safe and happy holiday season!
ShoreTV New Jersey Guest Blogger: Michelle Vovk