Jersey Shore Area College Students Help Local Children and Families in Monmouth County
March 05, 2019
-
comments
The Jersey Shore area is home to one of the 365 Ronald McDonald houses in the United States. The Ronald McDonald House Charities is a non-profit organization that supports programs that improve the well-being of children.
The purpose of the organization is to help sick children and their families have access to medical treatment by providing a place to stay at little or no cost. According to The Ronald McDonald House officials, they try to create a world where all children have the access they need to medical care while supporting their families at the same time.
On Friday March 1st, at the Ronald McDonald House of Central and Northern New Jersey located in Long Branch, members of Monmouth University's women's field hockey team came out to volunteer. The Ronald McDonald House held a porch sale with donated toys, games, stuffed animals, and clothing. The donated items are sold to the community at very low prices and all the proceeds go to support the Long Branch Ronald McDonald House.
The Monmouth Field Hockey players helped out by organizing the items for sale by price and assisted anyone looking to make a purchase. The young women helped with many sales and all for a good cause.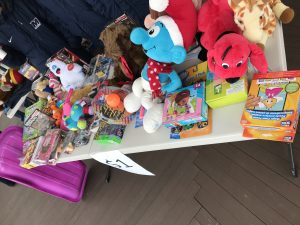 The athletes say they were fortunate enough to receive a tour at the end of their volunteer day. Part of the tour included getting to see all the specially decorated children's rooms with themes including the Long Branch Fire Station, Paris, Dr. Seuss and many more. The Monmouth University students say they were proud to help out the Ronald McDonald House as it's a special place located right in the middle of our Jersey Shore community.
Check out this link to find out how you can help The Ronald McDonald House of Central and Northern New Jersey:
https://rmh-cnj.org/how-to-help/
It's yet another great reason why ShoreTV New Jersey loves to call the Jersey Shore area…home.
#ShoreTVNJ #RonaldMcDonaldHouse #LongBranch #GiveBack #Community #Local
ShoreTV New Jersey Guest Blogger: Stefanie Bigler