ShoreTV New Jersey featured in the July issue of Community Magazine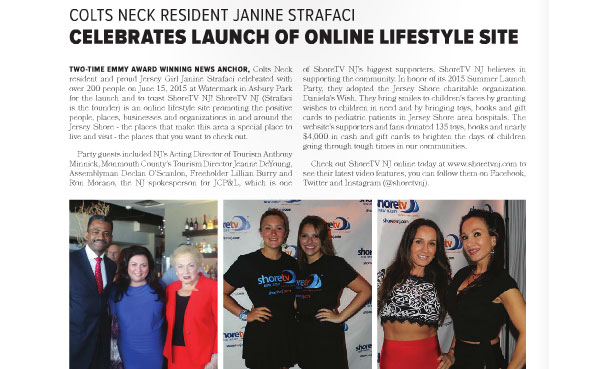 September 14, 2016
-
comments
ShoreTV New Jersey was recently featured in the July issue of Community Magazine!
Below is an excerpt:
TWO-TIME EMMY AWARD WINNING NEWS ANCHOR and proud Jersey Girl Janine Strafaci celebrated with over 200 people on June 15, 2015 at Watermark in Asbury Park for the launch and to toast ShoreTV NJ! ShoreTV NJ (Strafaci is the founder) is an online lifestyle site promoting the positive people, places, businesses and organizations in and around the Jersey Shore – the places that make this area a special place to live and visit – the places that you want to check out.
Read the full article in Community Magazine »