Cheers to a Jersey Shore area Winery!
July 26, 2017
-
comments
Be sure to make Fox Hollow Vineyards in Monmouth County a must-visit on your list of places to check out in the area. The reason? The vineyard, owned by the Casola Family in Holmdel, won the Governor's Cup for Best Grape Wine in New Jersey in the recent NJ Wine Competition. The competition is run by the Garden State Wine Growers Association and organized by Dr. Gary Pavlis of Rutgers.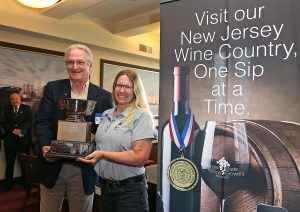 Fox Hollow Vineyards, which opened just over a year ago, won the gold medal for Best Vinifera Wine and the Governor's Cup for their 2014 Cabernet Franc. The awards were presented at a special ceremony at the Statehouse in Trenton.
Centrally located on 94 acres in Holmdel, Fox Hollow Vineyards is owned and operated by the Casola Family, Tony and Kim and son Joe, 6th generation farmers who decided to diversify into vineyards and wine making for future generations. Joe Casola is the winemaker. His philosophy as a winemaker is to allow the grapes to really mature prior to harvest and let them show themselves what kind of wine they will be, to allow the grapes to be self-expressive, indicative of where they are grown. He believes in minimal interference in the processing of the grapes into wine and lets them express the characteristics from the area. This process allows them to tell him what type of wine they will be.
​The winery is open Friday, Saturday & Sunday from 11am – 6:30pm.