Rocking Out in Asbury Park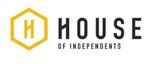 November 20, 2017
-
comments
Some would say Asbury Park is at the core of the Jersey Shore music and entertainment scene. It's where legendary Jersey-born artists return to perform and where new, up-and-coming entertainers are born. You can smell the ocean air, feel the ocean breeze and hear the sounds of endless rhythm.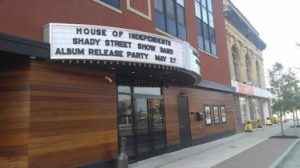 Photo: Street View of House of Independents
You can feel the history of music at nearly every corner. So, no surprise, Asbury Park has a relatively new thriving music venue on the scene with a variety of events that you may want to check out! House of Independents opened in November 2015 and since then has held big name comedy and music shows, such as Colin Quinn, The Menzingers, Eagles of Death Metal, Brian Fallon and We the Kings.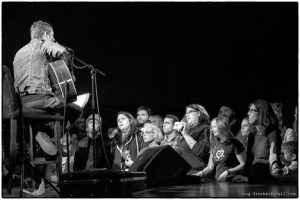 Photo: Brian Fallon at House of Independents by Douglass Dresher
Located on Cookman Avenue, House of Independents has become a staple in Asbury Park's night life scene and community. Offering dance parties like 90s by Nature and Disco Inferno and working with local businesses such as Lakehouse Music Academy, The Asbury Park Brewery and The Asbury Park Film Festival, the venue has become a fan favorite amongst regular concert goers. Owned by Sackman Enterprises, the House of Independents staff focuses on giving every customer a safe and positive show experience. The best part of the experience that House offers is the intimate setting. With a capacity of 500, you are always guaranteed a great view of your performer from either the first or second floor of the venue even on one of the many sold out nights.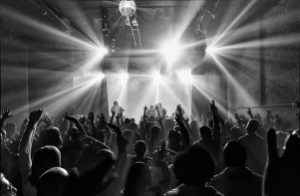 Photo: Inside view of House of Independents
House of Independents will be celebrating its two-year anniversary with a free show on November 25th featuring artists such as Vinnie Caruana, The Vansaders, Latewaves, Levy & The Oaks, Rocky and The Chapter, and Pete Steinkopf of The Bouncing Souls Djing throughout the night! It's a great time to check out Asbury Park's newest venue!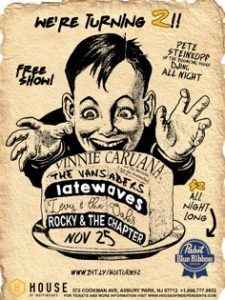 Photo: House of Independents Two Year Anniversary Event
No doubt, the roar of the ocean waves can't drown out the music emanating from Asbury Park. House of Independents is another great addition keeping the music scene alive and giving you another spot to catch your favorite artists.
For more information go to www.houseofindependents.com
ShoreTV New Jersey Guest Blogger: Eva Michaylin