An Inside Look at Rockit Academy: A Rock Band Program at the Jersey Shore!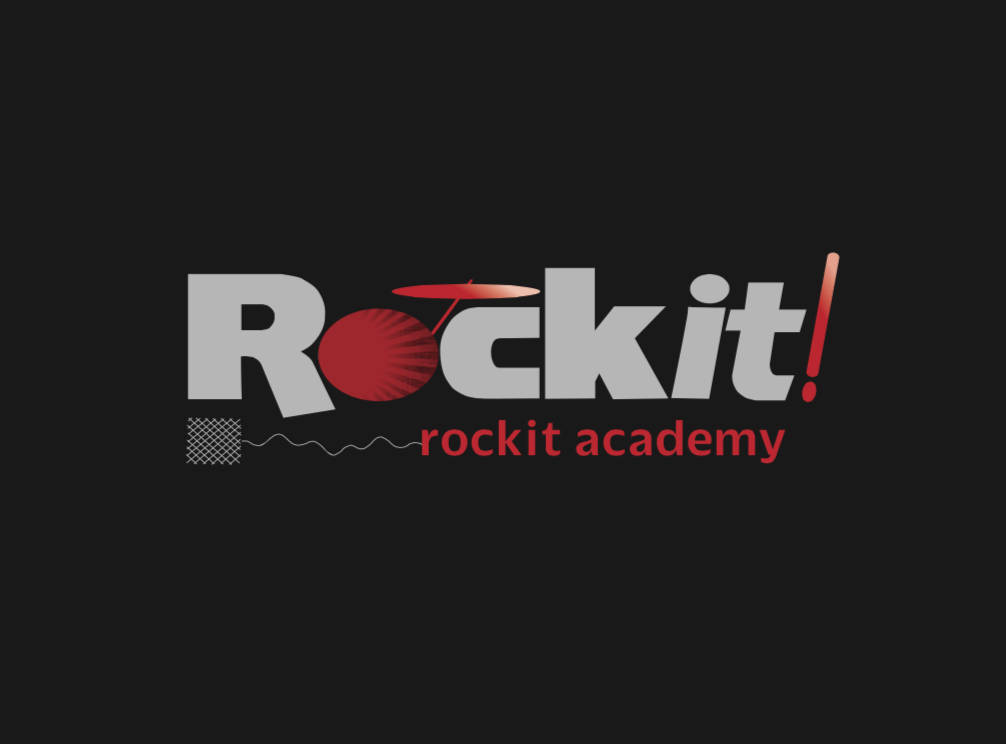 April 12, 2018
-
comments
The Rockit Live Foundation has been tearing up the Count Basie Theatre stage for over a decade. Their music fills New Jersey with note for note renditions of classic Rock N Roll hits. These young aspiring musicians are brought together under the direction of Bruce Gallipani to form bands and replicate the sounds of music from the 60s through today. Here is an inside look at New Jersey's rock band program for ShoreTV New Jersey's fans.
Photos by Mark Weiss.
This music program offers 90-minute band classes along with supplemental private instruction during a 6-week rehearsal period. Students are expected to learn at least 2 songs from the selected show theme of the current session. At the end of the 6-week session, students perform live on stage at the Count Basie Theatre. The non-profit organization's Artist Advisory Board includes Steven and Maureen Van Zandt, Carmine Appice, Eddie and Susan Brigati, Jacquie Lee and Rich Russo.
ShoreTV New Jersey attended the Rockit Academy's last concert at the Count Basie Theatre titled "Rock N Roll Band Featuring Music of the 70s & Boston's Eponymous Debut Album." This concert incorporated music from The Eagles, Aerosmith, Queen, Peter Frampton, and more while featuring selections from Boston's debut album.
"These students are unbelievably talented; especially for their age. Their professionalism and stage presence always make the shows very enjoyable. It was my pleasure to support such an amazing organization today and I can't wait to see what these "rockers" do in the years to come," says Anna of Union, NJ. Anna and her family travel down to the Count Basie Theatre as often as they can to support the Foundation.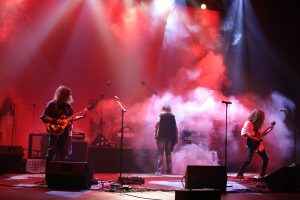 Photo by Mark Weiss.
The Foundation also has a Scholarship Program that allows students to participate at free or discounted rates. The program serves to fill a need for the arts in our community. These scholarship students are offered band classes and private lesson as well as the opportunity to perform at the Count Basie Theatre.
William Blake, 12, is a current scholarship student at the Rockit Academy. William was asked, "how has Rockit benefited you as a musician? What do you look forward to in years to come?"
He says, "Rockit is a program that every aspiring young musician should experience. I am one of the multiple scholarship recipients current enrolled in the program, and it has been great for me. Rockit has pushed and encouraged me to hone and improve my skills on the instruments that I play (saxophone and piano/keyboard). In years to come, I look forward to becoming a better musician and have a band that is very successful. That goal is so much more attainable thanks to Rockit! As the program Director, Bruce always say… Rock on!!!"
After the show, ShoreTV New Jersey sat down with Founder and Executive Director, Bruce Gallipani to get the inside scoop.
ShoreTV NJ: Tell us more about Rockit. What makes you different from other music programs in the area?
Bruce: We are the only music program in our area to audition musicians for entrance into our Academy. This adds a level of quality and integrity to the product we present on the stage.
ShoreTV NJ: Aside from your numerous events held at the Count Basie Theatre in Red Bank, what other events are you involved in?
Bruce: We perform outside of the Count Basie Theatre to help benefit different community charities. We are also very appreciative of local venues that invite us to perform so that we may raise funds to benefit our own scholarship program.
ShoreTV NJ: What has been your proudest moment in Rockit?
Bruce: There are many proud moments. When students are struggling and working very hard to keep up with their band during rehearsals, then knock it out of the park on show day. Other proud moments are when celebrities perform with our students on stage. I get to watch both celebrity and students having the time of their life.
Brooklyn musician Bruce Gallipani believes in rock and roll, that it offers a lot of positive reinforcement and social well-being for today's youth. He's pounding out that message with every concert, sharing his experience and vision, while giving kids a taste of performing live on the big stage together.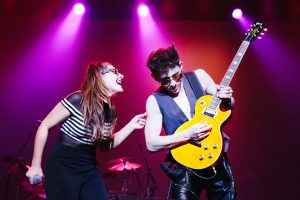 Photo by Mark Weiss.
Torie Gulizio, 18, is a current student at the Rockit Academy. We asked "what makes Rockit unique from other rock programs?" She explains, "Rockit is very unique compared to all the different rock programs out there today. Rockit is not about just playing the music and rocking out with friends, it's about making and being the music. In Rockit, you are always working on a new project, whether it is a gig in New York City or at The Count Basie Theatre. Rockit gives you various songs to widen your knowledge of music and gives you songs to challenge your ability as a whole to make you a better musician…When you are in the Rockit rehearsal room, you are working to better your songs from the very first minute to the very last. There is no better program to expand your knowledge and experience in rock & roll than the Rockit Academy!"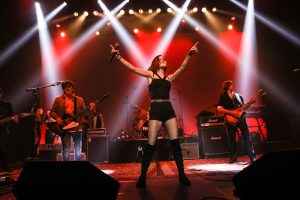 Photo by Mark Weiss.
The Rockit Academy will be performing at The Cutting Room NYC on April 29th at 3pm with Steel Guitar Legend Johnny Farina of Santo & Johnny. Also, be on the look out for tickets for their next show, California Dreamin' A Tribute to the West Coast, at the Count Basie Theatre on Sunday, June 17th at 3pm.
If you are interested in learning more about Rockit Live Foundation and want to see more event details, please visit their website at www.rockitacademy.org. You can also find future Rockit events and other features on ShoreTV NJ's website at www.shoretvnj.com.
#shoretvnj #jerseyshore #localmusic #redbank #rockit #rockitlive #rockitlivefoundation #rockitacademy #youngrockers #countbasietheatre
ShoreTV New Jersey Guest Blogger, Samantha Fortier
Photos by Mark Weiss. Mark is an American rock and roll photographer. His most widely recognized photographs capture the look and aesthetic of music and celebrity personalities of the 1980s. www.WEISSGUYgallery.com www.facebook.com/markweissphotography