Winter surfing in Jersey Have you ever watched Jersey Shore surfers and wonder where their love of the waves comes from? Have you ever wondered if you could surf? For me, the experience is like none other, the waves are amazing, and you have to brace yourself for the cold weather. This is something most surfers in the world will never have to deal with which is why surfing in New Jersey is so unique!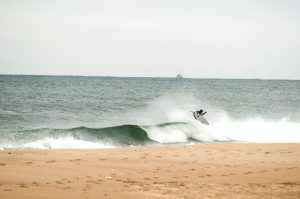 Why did I start surfing? It's part of my heart, my spirit…simply put: it runs through my veins.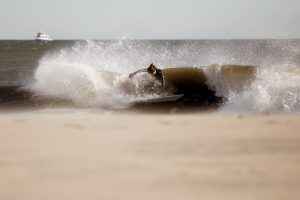 Like, a lot of hard core surfers, I was born into the sport. My Dad grew up surfing and could not wait to pass on the experience to me as soon as I was old enough. Surfing was the closest thing my Dad and I shared together. We could talk and be happy about it all day long. Sadly, my Dad passed away from Brain Cancer several years ago. Surfing is one of the most significant ways I connect with him. The experience is ours. Every time I paddle out, I feel like he is always watching me and happy to watch me having a good time with the gift of surfing that he gave me.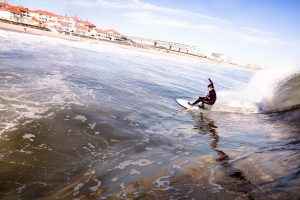 photo credit: Fiona Mullen The opening video is of me surfing in Asbury Park in the winter using a strapped video camera. The conditions were everything a surfer would dream of; perfect winds, good size, and nobody out but your best friends! The video offers a firsthand look at the thrill. Why is surfing the best in the winter? New Jersey in the winter months has great winter storms that bring epic surf to the coast fairly consistently. The swells are usually big south swells with west winds, which lines up for perfect right-hand tubes up and down the coast. That is when the wave barrels around you like a tube. Since the winter months in New Jersey come with freezing temperatures, you can often surf New Jersey's most prominent surf breaks with little to no people on them giving you the option to take any wave you want.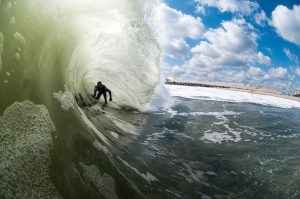 photo credit: Connor Halpin Where in New Jersey do I Surf? I love to stay in Monmouth County (Sandy Hook to Asbury Park and everywhere in between) because it is close to home and often produces epic surf). Depending on the conditions, you can sometimes catch me as far south as Long Beach Island in Ocean County. Recommended Gear Winter in Jersey is no joke so you will need the proper gear to make it through the season. I recommend a 5mm wetsuit with a hood attached, 7mm boots, and 5mm gloves. This combination of thick rubber should keep you warm for the most brutal winter days. As for a board recommendation, I would suggest a step up board (bigger than your average short board) with a thumb tail and a lot of rocker. This will allow you to get into the waves faster, and make crazy drops because New Jersey produces some of the heaviest beach breaks in the world.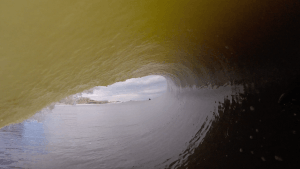 The New Jersey Surf community I have now been surfing in New Jersey for three years, and the surfing community here is excellent. I wasn't sure what to expect when I arrived to take on New Jersey's waves. Now that I have been surfing here for a couple of years, I can tell you that the local surfers here are good people and will let you surf with them at their spots. However, the golden rule is to respect the local surfers and their waves. Share their love of the ocean, show them the courtesy—and you too will be surfing some of the best breaks New Jersey has to offer! ShoreTV New Jersey Guest Blogger: Zach Bogetti