Everyone has their favorite place to eat… but we've all had those days where you're just looking for some place new to check out. Well, as ShoreTV New Jersey's in-house "foodie," I've got you covered with my top 5 places to eat in Asbury Park. This great little city along the Jersey Shore in Monmouth County has a variety of different restaurants to keep your culinary tastes busy for a while but here are the ones I like to frequent in no particular order. Bon appetit!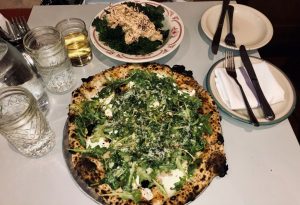 Talula's – Rocket pizza and Chipotle Chicken Salad. If you are a pizza lover like me, this spot is perfect for you! Talula's is the perfect place to stop in and have a nice brunch or dinner. The environment is extremely friendly and relaxing. Located on Cookman Ave, you can take a nice stroll after your meal! The pizza that is offered is a thin crust, made with fresh ingredients, so you can indulge without feeling bad afterwards! The pizzas aren't my only fave there, the salads are absolutely delicious as well. Talula's never disappoints my taste buds.
Modine -Southwest chicken salad If you are looking for a different place to tempt your palette, Modine is the next place to check out on Mattison Ave. They put a modern twist on southern homestyle cooking. The food here is absolutely fresh and delicious, not to mention the interior of the restaurant is beautiful as well. Their menu consists of breakfast, brunch and dinner options. I can't resist their organic southwest chicken salad. Quality food with a view will definitely make your dining pleasure.
Lola's European café- Coffee gelato Lola's European Café has my absolute favorite gelato and café food. They are located on Cookman Avenue. It's the perfect place to have a midday or late night snack. Just sit back and enjoy some delicious food. They have a robust menu filled with paninis, desserts, coffees and teas! Their gelato is homemade and has the perfect texture and taste to it.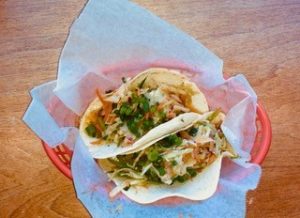 MOGO- Korean Chicken taco If you're looking for somewhere affordable yet different, MOGO Korean Fusion Tacos on Cookman Avenue is the perfect place to go. You'll find tacos, burritos and bowls, with your choice of protein. It's a perfect meal all year long. One of my faves is the Korean chicken taco.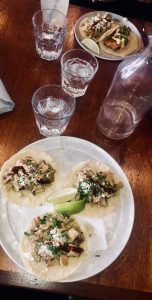 Loteria – Tacos de pollo And one of my favorite places to enjoy authentic Mexican food is Loteria on Mattison Avenue. Their tacos are top notch. I find the food fresh and the environment so friendly. It's a perfect place to spend your Tuesdays for Taco Tuesdays! My go-to is Tacos de pollo. You'll find lots of great items on the menu from tacos to quesadillas, chips and guacamole and be sure to check out their specials of the day! Thanks for coming along for my culinary ride through Asbury Park. The Jersey shore has so many top notch places to check out. The cuisine options will keep you busy after a long day at work or at the beach. Just remember to pack your appetite along with the sunscreen! Share your favorite Jersey Shore area restaurants with us below. We, at ShoreTV New Jersey, are always ready to explore new places and our next food adventure. Just another reason why we love to call the Jersey Shore area…home. ShoreTV New Jersey Guest Blogger: Isabella Oliveira